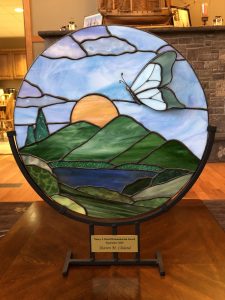 Mountain Valley Hospice (MVH) announces Shawn M. Cleland as the recipient of the third annual Nancy J. Dowd Humanitarian Award (NDHA). The NDHA honors the memory of MVH's first executive director who established the four-county Hospice service 33 years ago and also built the eight-bed Nancy Dowd Hospice Home (NDHH), a private non-profit facility providing end-of-life care.
Nominated by The Family Counseling Center's Public Relations & Marketing Director Maria I. Simone, Cleland serves as Board President.
"When we first became aware of all that Shawn has contributed to this community and the countless lives she has touched, we were struck by many similarities to our mother," said Patrick Dowd, NDHA Committee Chair and MVH Board Vice Chair. "Teacher, mentor, supporter, visionary, and leader are all words that have been used to describe them both. Shawn's leadership in creating the new home of the Family Counselling Center brough back many memories for us, as we reflected on when our mother was developing the Nancy Dowd Hospice Home. It is with great respect that we support Shawn as the 2020 recipient of the NDHA."
The award was established as part of MVH's 30th anniversary celebration in 2018 to honor the positive influence Nancy Dowd made in the lives of those she touched and to acknowledge an individual or organization following Nancy Dowd's example through humanitarian services to the community or improving quality of life for individuals and families living in the Mohawk Valley.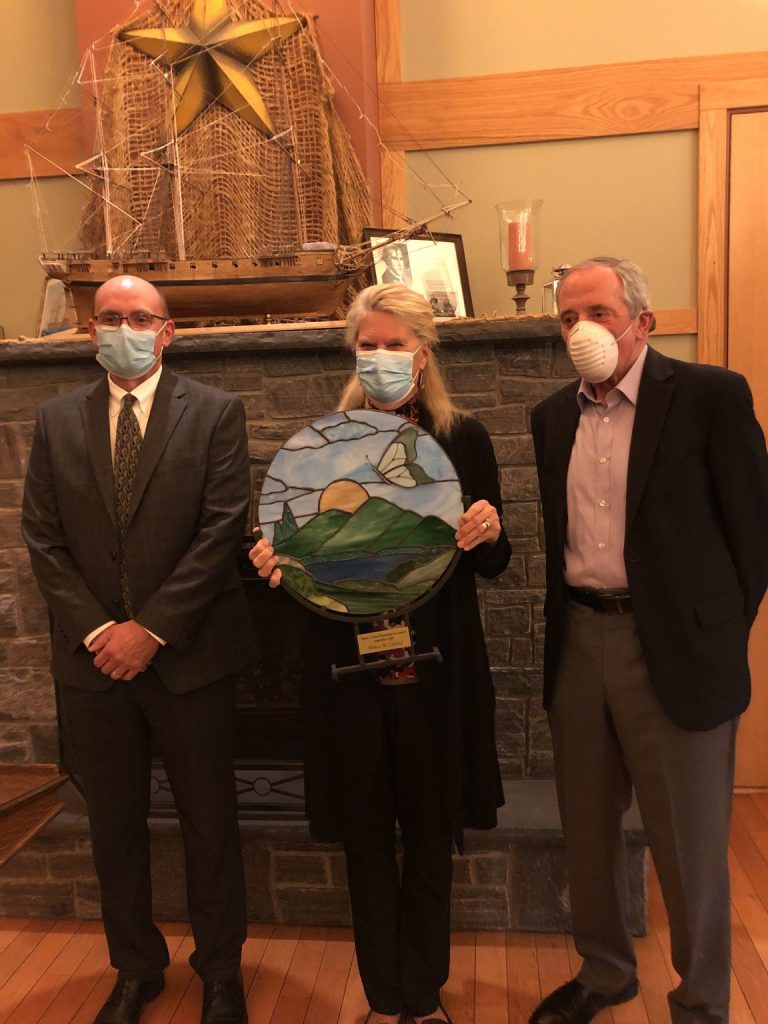 A former Special Education teacher and Department Chair at Gloversville High School, Cleland "was a compelling and dynamic advocate for children who didn't have one…helping them understand and overcome their struggles, celebrate their strengths, excel in all they did, and become productive members of society," said Simone in her nomination letter. "Oftentimes, her solution was as simple as acting as a friend or role model to those who needed one most. Teaching students to read in her spare time, buying clothes and personal items for those in need, and always making sure everyone had a proper breakfast to start the day…"
Cleland joined the board of The Family Counseling Center in 2017, where she recently led an $8.5 million community building project through a "reorganization effort that facilitated our growth and positioned us for long-term success," said Peter Lawrence, Deputy Executive Director, in his letter of support.
"She has been a champion for mental health, substance abuse, domestic violence, health coaching, and generally supporting anyone in need while in this role," said Executive Director Michael L. Countryman in his letter of support. "I have known Shawn for many years, and she has inspired me to not just be a better leader but to lead through charity both professionally and personally. She has dedicated her life to loving others of all ages and lifting them up to fulfill all of their potential."
Because of the pandemic constraints and the fragile condition of the patients residing in the Nancy Dowd Hospice Home, the award will be presented to Cleland in a private ceremony. A video of the award presentation will be available via www.mvhcares.org and MVH's Facebook page.
Gloversville native Ellen Wood, a community volunteer and Chair of MVH's first Capital Campaign, was the first recipient of the NDHA in August of 2018.  Long-standing MVH Board member and widely recognized community volunteer Jack Scott was awarded the second annual NDHA in September 2019. Founded in 1988 by Nancy J. Dowd as a not-for-profit, MVH serves patients and families in Fulton, Montgomery, Hamilton and Saratoga Counties.  MVH's unique offering is an eight-bedroom, Adirondack-style home in Gloversville, NY that provides 24-hour clinical care.  MVH also offers complimentary grief counselling to any member of the community, regardless of whether their loved one was a Hospice patient.  Mountain Valley Hospice – honored to serve you in your home or ours!
---