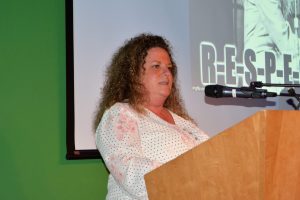 The Journey of a Hospice Nurse
By Robin Jusenius, RN; Mountain Valley Hospice Senior Case Manager
(From a speech Robin delivered at the presentation of her 20-year service award at the MVH Academy Awards on May 3, 2019)
My Hospice journey began in October of 1998 when I was preparing to move my family back to New York. It was a sunny day in Ocala, Florida.  We didn't have the internet back then for job searching. Our hometown paper from Montgomery County, NY, was delivered to me every week. I usually checked the obituaries and the police blotter but on this day I was on a mission to secure a new job. It was then that I came across an ad for an RN Case Manager for Mountain Valley Hospice.
I made the phone call and had a lengthy conversation with the then Hospice Administrator Nancy Dowd. She and I developed a very special connection on that day.  It was a "divine appointment."
I started at MVH on January 4, 1999. I was the much younger "new kid on the block." I must say it was a difficult transition working alongside experienced Hospice nurses who were near the age of my parents. I viewed them as full of wisdom and strength and a great source of knowledge. They viewed me as the young, bratty nurse. I overheard one of them call me Nancy's "golden-haired child." Florence, Janet and Doris were my greatest challenges as I navigated my young Hospice career. But, I didn't let that stop me. I observed and put to practice all of the skills they so graciously demonstrated every day. Some years later they realized I had what it took to be as great as they were. There were also Nancy, Marguerite who was my full-time RN case manager partner, and Sheila, a social worker, who tucked me under their wings and taught me the way of Hospice.  They saw my real potential.
Nancy Dowd and our then Medical Director, Dr. Robert Kemp, were my greatest mentors. Dr. Kemp was a retired, well-known local physician. He worked four days a week at Hospice and would ride with the RNs for the day; he rode with me two days a week. He would complain about my car being too cluttered. He would say, "clean that car or I am not riding with you next week." Next week came and my car was still cluttered…and he rode with me anyway.
As payback for his comments about my car, I would drive very fast over windy and bumpy country roads. We would stop between visits and eat hot dogs and ice cream in Canajoharie. He enjoyed our outings though he complained I was ruining his diet and that he may die in an accident due to my crazy driving. Those were my good old days, when MVH was housed in the old Argersinger building in downtown Gloversville.
Nancy Dowd had a vision and it became reality in the Nancy Dowd Hospice Home. I watched as she put her heart and soul into her vision until it became a reality. She asked all of the staff for input and I had two requests – no fluorescent lights or cheap toilet paper. We still have both.
Over my 20 years, I have cared for patients from the age of 10 months to 102 years old. I provided medical oversight and support to promote comfort for the dying. I provided education and support to family members who were grieving the anticipated loss of their loved ones. It is rewarding every day but not easy. Every two to three years I am ready to quit Hospice to become a florist or make gift baskets. Being a Hospice nurse is not a job, rather it is a way of life…or as my mother and my late father would say, "Robin, this is your calling and I am so proud of you." Being a Hospice nurse, social worker, home health aide, volunteer, or chaplain is not just a job, it is truly a gift and a privilege.
This job has not been easy on my family. Often when you think your day is done, there is another phone call and off you go instead of going home. I've worked many weekends, holidays and nights covering as the on-call RN. My children used to tell me, "Mom, you're so morbid. You always talk about dying people." Today, they are young adults and have a good understanding that death is a part of life. They acknowledge how precious life is and try not to take it for granted. I have grandchildren now and hope to instill those values in them as well.
It was near Grandparent's Day when my 7-year-old grandson Jack had to tell his class about his grandparents. He explained to them, "My Nonnie is a nurse and she gives dead people a bath." I can't imagine the look on his teacher's face, but I know his mother was mortified. I explained to him there is much more involved with being a Hospice nurse than that. I explained that after I give people who have died a bath, I have had to dress them, too. I have dressed men in three-piece suits with a tie, while others in jeans, flannel shirts and boots. The ladies have been placed in fancy dresses and makeup. One of my all-time favorite female patients asked me to put her in her prettiest dress, paint her finger and toenails with bright red nail polish and place every piece of jewelry she owned on her, no matter how gaudy it looked. She also asked for blue eyeshadow and red lipstick. I honored her wishes and this meant so much to her and her partner. This reminded me of the things we take for granted but mean so much to our patients and families.
I am eternally grateful to the late Nancy Dowd – the amazing nurse, dreamer and mentor – who gave me the career opportunity of a lifetime. I pray I have made her proud of the Hospice nurse that I am today.
I would like to thank my awesome Hospice co-workers who support me every day to fulfill the mission of Mountain Valley Hospice.