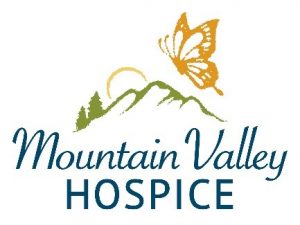 108 Steele Avenue, Gloversville, NY 12078
(518) 725-4545 | www.mvhcares.org | Facebook: MVHCares
For Immediate Release:              
January 13, 2020
Contact: Kelly Montanye, Manager of Community Outreach & Volunteer Services, (518) 725-4545, kelly.montanye@mvhcares.org
MOUNTAIN VALLEY HOSPICE SEEKS VOLUNTEERS
There is no better way to honor a loved one who has passed than by serving as a hospice volunteer. MVH seeks caring and compassionate volunteers to provide support to hospice patients and their families throughout Fulton, Montgomery, Hamilton and Saratoga Counties. Volunteers may also assist with administrative work at the Nancy Dowd Hospice Home (NDHH).
Hospice Patient & Family Support Volunteers typically make visits to patients' homes, nursing facilities, hospitals and the Nancy Dowd Hospice Home once a week. These volunteers provide emotional support and companionship to patients and family members, assist with errands, or provide respite for caregivers. Hospice Volunteers do not perform personal care, such as feeding or administering medication. MVH makes every effort to match volunteers with patients according to the volunteer's comfort level.
Many volunteers report a great deal of personal satisfaction as a result of their service. "Through my experience I have found that MVH has proven to be important to both patients and volunteers.  It's a special feeling to be able to ease a patient's anxiety while they share their memories and their stories," said Susan Hathaway-Ringland, a Patient & Family Support Volunteer at MVH.  "It's a delight to bring a smile to our patients' faces. As a Volunteer, we listen… we laugh… we just love what we do."
Hospice Volunteers complete an application and receive eight hours of training that covers the medical, psychological and spiritual aspects of hospice volunteering. Orientation and training is offered on a rolling basis at the convenience of the volunteers, with some of the coursework offered online.
To learn more about volunteer opportunities contact Manager of Community Outreach & Volunteer Services, Kelly Montanye at (518) 725-4545 or visit mvhcares.org/get-involved/hospice-volunteers/.
The mission of Mountain Valley Hospice is to enhance the lives of those we serve by supporting what matters most to them.  Mountain Valley Hospice supports patients and families in the Fulton, Montgomery, Saratoga and Hamilton Counties of New York State. The Nancy Dowd Hospice Home is an elegantly rustic, 8-bed facility with 24/7 care for those seeking comfort. Anyone can make a referral or request a tour of the building. For details, visit mvhcares.org.
END RELEASE